Article From: "Jillian Pretzel" Read full article
Drew and Jonathan Scott
have dealt with picky clients, but on the latest episode of HGTV's "Property Brothers: Forever Home" they meet a couple who toured 50—yes, 50—homes before they found one they deemed worthy to buy. Nonetheless, they think it
still
needs work!
In the episode titled "A Forever Home for Two," the Scott brothers are pleasantly surprised by Jason and Leah's stylish furniture and wall art—clearly these two have taste. However, the brothers are horrified by some of the other modifications the couple have done. For instance, the pass-through between the kitchen and living room isn't large enough to really open up the space. Plus, a window they'd cut out near the stairs isn't up to code, which could sabotage their home's value down the road.
Can Drew and Jonathan help the couple improve their home's functionality and correct their renovation mistakes, all while keeping their impeccable midcentury modern look? Read on to find out how the "Property Brothers" stars fix up this home, and the take-home lessons that might apply to your own abode.
Floors and stairs the same color create more flow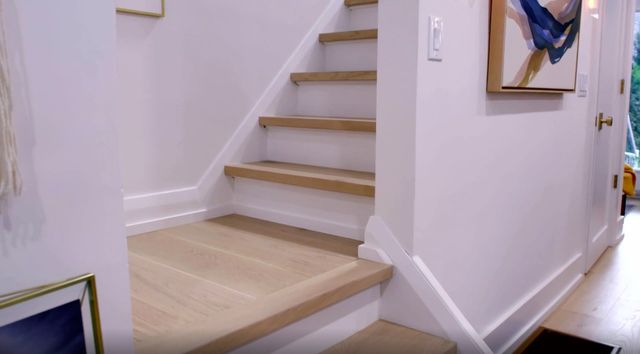 The brothers often tell clients that they need consistent flooring to make their home flow from room to room. But while working on Jason and Leah's house, Jonathan realizes the importance of consistent stairs, too.
At first, he plans to sand the redwood stair treads to make them match better with the new white oak flooring in the rest of the house. But he soon realizes that this isn't going to get the job done.
"It was obvious that sanding them down wasn't going to result in a perfect match to the new floors," Jonathan explains.
Instead, he spends an extra $800 to install new white oak stair treads. He explains that while it may be difficult to spend the extra money, the oak is now consistent throughout the entire space. It even matches the wood on the new custom range hood.
Glass railings on the deck help clear views to the yard
The brothers have to fix up the deck, and once the platform is sturdy, they install beautiful new glass railings, knowing that this look is one that Leah and Jason love.
In the end, it's clear that the glass is the right choice. The deck appears larger and more open with clear sightlines to the yard.
"This way they can feel really immersed in the outdoors while enjoying their new deck," Jonathan explains.
A kitchen island and dining table can go together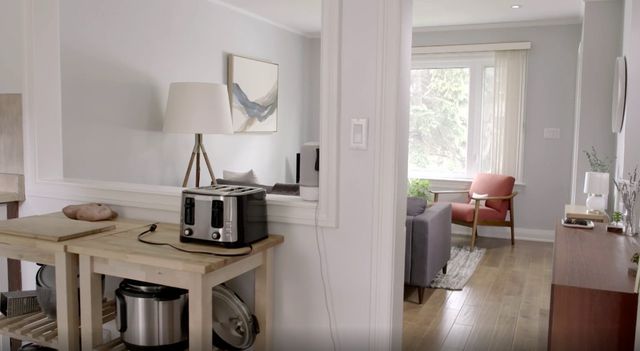 At first, Jonathan suggests having a separate dining table in addition to a kitchen island. But since the kitchen is small, Leah and Jason want their living space to flow a bit better. So instead, they decide to go with a dining table/kitchen island combo.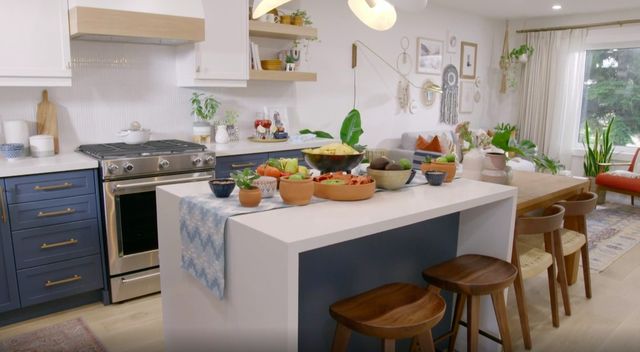 When the kitchen is finished, it's clear that Leah and Jason have made the right choice. The table, combined with the island, leaves plenty of space for entertaining. Plus, with the long island-table combo in the center, there's plenty of room to maneuver on either side of the kitchen.
A smaller window opens up possibilities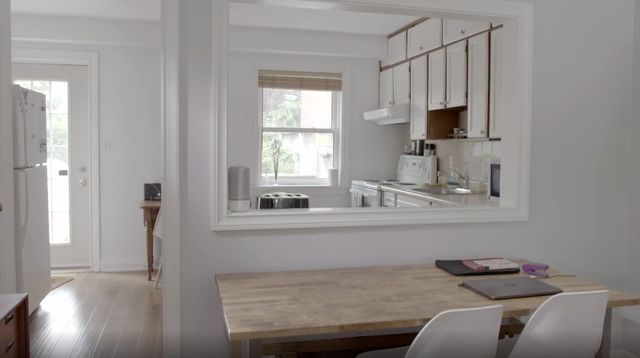 Jonathan realizes that there's a problem with the kitchen window: It's too big. While big windows aren't usually a problem (after all, they bring in sunlight), the low window in this kitchen prevents Leah and Jason from having cabinets and countertops all the way across their kitchen.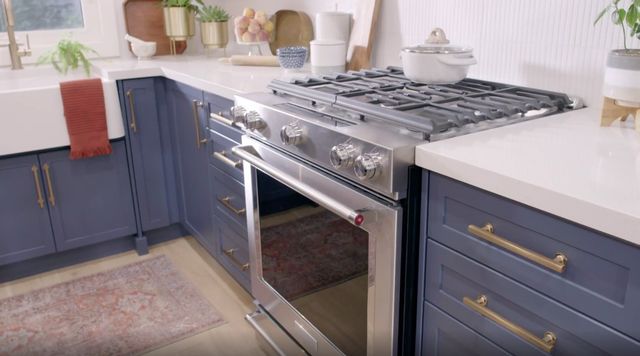 "A lot of the time people feel like they're stuck in their layout in an older home," Jonathan says, "but something as simple as changing the size of a window suddenly gives you a whole bunch of new options."
Sure enough, this new, smaller window allows for more cabinets and countertop, but still lets in plenty of light.
Don't be afraid to add color to your home
Leah and Jason say they don't love an all-white kitchen, and the brothers agree that a little color can be a great thing. In fact, they decide to bring a bunch of color in, going bold with blue cabinets in the kitchen.
The look is stunning, and perfectly fits Jason and Leah's midcentury modern style.
So, do the Scott brothers deliver?
Leah and Jason come to the Scott brothers with a $125,000 budget, and choose a design that Jonathan quotes for $122,000. There are some unexpected costs, including the $800 stair treads and the $300 fix to the basement door, so the final cost lands at $123,100.
Still, that's within their budget, so Leah and Jason get to leave with a few bucks still in their savings account while getting a gorgeous home they'll enjoy forever. The Scott brothers were given a small space to work with, and in the end, they make the home feel much larger by taking down a wall, reworking the kitchen, and creating a welcoming deck for indoor-outdoor living.
Hello, forever home!
The post The Property Brothers Reveal One Upgrade That Can Sabotage a Home's Value appeared first on Real Estate News & Insights | realtor.com®.
HOMEBUYERS BEWARE! Book Review
This book is an excellent first step in a complicated process.
Buying a home is like buying a car, on steroids. It's the biggest investment you are likely to make so the stakes are incredibly high. I knew that having an agent represent me was a good idea.
What I hadn't grasped was how important it is to find one who is not connected with the selling side in any way—through an agency that also represents sellers, as most do, at least in Mass. In researching buyer agents, I found Tom through the Mass. Assoc. of Buyer Agents (MABA).
Selecting the Right Homebuyer's agent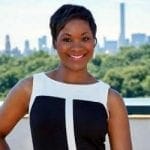 Unlike most other real estate agents, a MABA home buyer's broker never represents both a buyer and seller in the same transaction so you never have to worry whether a MABA agent is really looking out for your best financial interests. A MABA buyer's agent acts as your advocate, real estate educator, advisor and negotiator, always loyal to you and dedicated to getting you the best home at the best price.
Contact MABA today and Find a Great Buyer's Agent!  Fill out the form to get started.
Get Started with MABA
For no extra cost, let a MABA buyer agent protect your interests
Find a great Buyer Agent!