Article From: "Jennifer Kelly Geddes" Read full article
Let's say you're searching for a home and you see "butler's pantry" listed in the amenities. It sounds fancy, right?
Well, we're sorry to burst your bubble, but a home that comes with a butler's pantry doesn't include Jeeves, the tuxedo-clad steward, waiting with canapés and a glass of sherry. So what does it include?
Here's the skinny on these compact yet flexible rooms, which can be a boon if you like to entertain.
What is a butler's pantry?
Historically, a butler's pantry (sometimes called a scullery) is a dedicated space in a large home used to store (as well as to count and polish) the family silver, numerous sets of china, and large serving dishes like platters, tureens, and coffee urns.
To protect these heirlooms from theft, a butler would keep the cabinets under lock and key. Some butlers even slept in this room!
Today, butler's pantries are located just off the kitchen or dining room and are used as staging areas for serving meals, and as a storage space.
In a butler's pantry, you'll commonly find a countertop and cabinets for keeping serving pieces, tableware, wine glasses, table linens, candles, and other items for the dining room. Luxurious upgrades here can include a dishwasher, small refrigerator, or sink.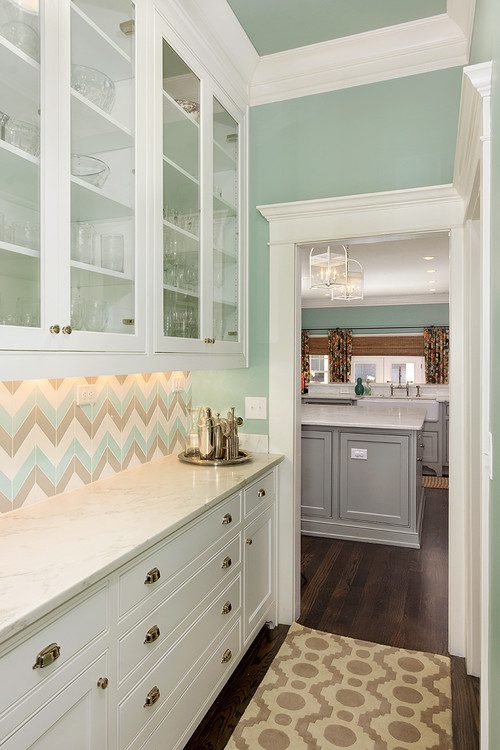 Why would you want a butler's pantry?
A butler's pantry is definitely desirable in a modern house, says Reba Haas, a real estate agent with Re/Max Metro Realty in Seattle. A buyer will be drawn to the accessibility of this gem of a room, she notes.
"Located adjacent to the dining room or other entertaining space, a butler's pantry allows the host to prep for meals without having to go into the kitchen."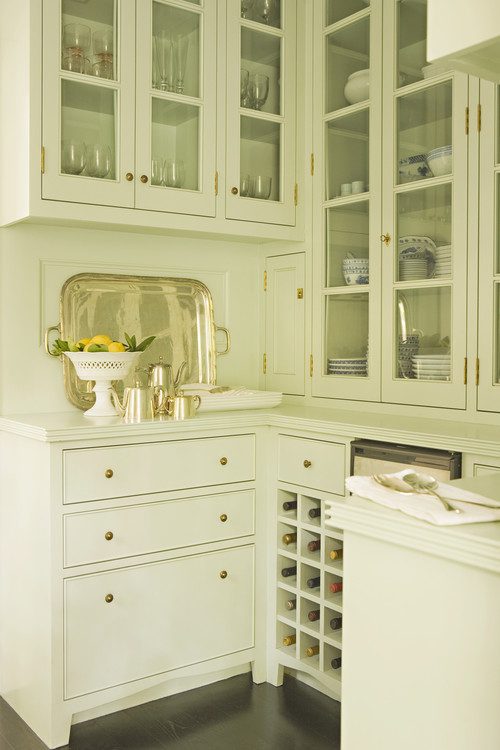 Photo by Tim Barber Ltd. Architecture
William Hirsch, an architect who specializes in custom residential design in Seven Lakes, NC, and author of "Designing Your Perfect House," praises the space's multipurpose features.
"In every kitchen, there's competition for storage—you need everyday dishes, glasses, silverware, and pots and pans in close proximity," he says.
But the fancy dinnerware, linens, and serving dishes don't need to be housed in the same spot, which makes storing them in the butler's pantry the ideal solution. Glass-fronted cabinets with interior lights are common in butler's pantries, and the space can be viewed as a jewelry display.
"I usually select cabinet styles that work with the nearby dining room, rather than match them to the kitchen, because it gives the pantry a bit more formality," Hirsch adds.
Types of butler's pantries
There are a few kinds to consider, depending on the space you have and your home's style. For privacy, a butler's pantry with pocket doors, swinging doors, a screen, or sliding panels is one way to go.
You can also hide your butler's pantry by constructing a false back wall in your kitchen or dining area. Or create a walk-in version by enlarging an existing food pantry.
A small hallway between the kitchen and the dining room is also an ideal place to set up a butler's pantry.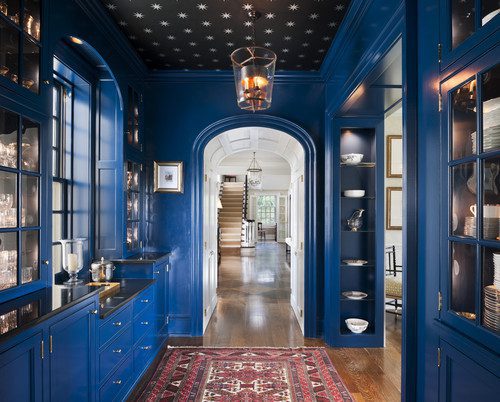 Photo by Archer & Buchanan Architecture, Ltd.
Build a butler's pantry in your home
If you have an empty enclave sitting between the kitchen and dining room, this is the sweet spot for a butler's pantry, says Dan Moyer of Closet Factory, a company that designs and builds custom closets and storage solutions.
You can also convert an extra closet near the dining room into a butler's pantry. A contractor or architect can help you design the space, which should include storage with adjustable and open cabinets, counters, display cubbies, and hooks for cleaning supplies.
"The job can be done fairly cheaply and will typically entail removing the doors of an existing closet, filling screw holes on the door casing, stripping down the interior, and then adding back a counter-height piece of wood or remnant countertop (granite, quartz) and bracketed shelves above," explains Carole Marcotte, an interior designer with Form & Function, in Raleigh, NC.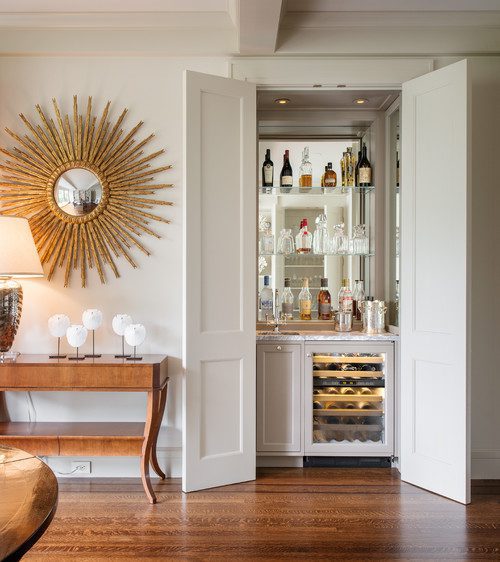 Not one for entertaining? A butler's pantry can be used as a self-serve bar, Marcotte notes. Haas has seen many clients devote this space to their pets.
"Dog and cat food, toys, and medications can be stored here," she says. Others have given the spot over to their kids, designating lower drawers and the small fridge for their snacks and drinks, which cuts down on traffic in the main kitchen. Others use it as a fancy space to store wine.
So what's not to love about a butler's pantry? It's a functional space that provides more storage near the kitchen and the dining room—areas where you probably need it the most.
The post What Is a Butler's Pantry? The Multifunctional Space Between the Kitchen and Dining Room appeared first on Real Estate News & Insights | realtor.com®.
Get Started with MABA
For no extra cost, let a MABA buyer agent protect your interests
Find a great Buyer Agent!